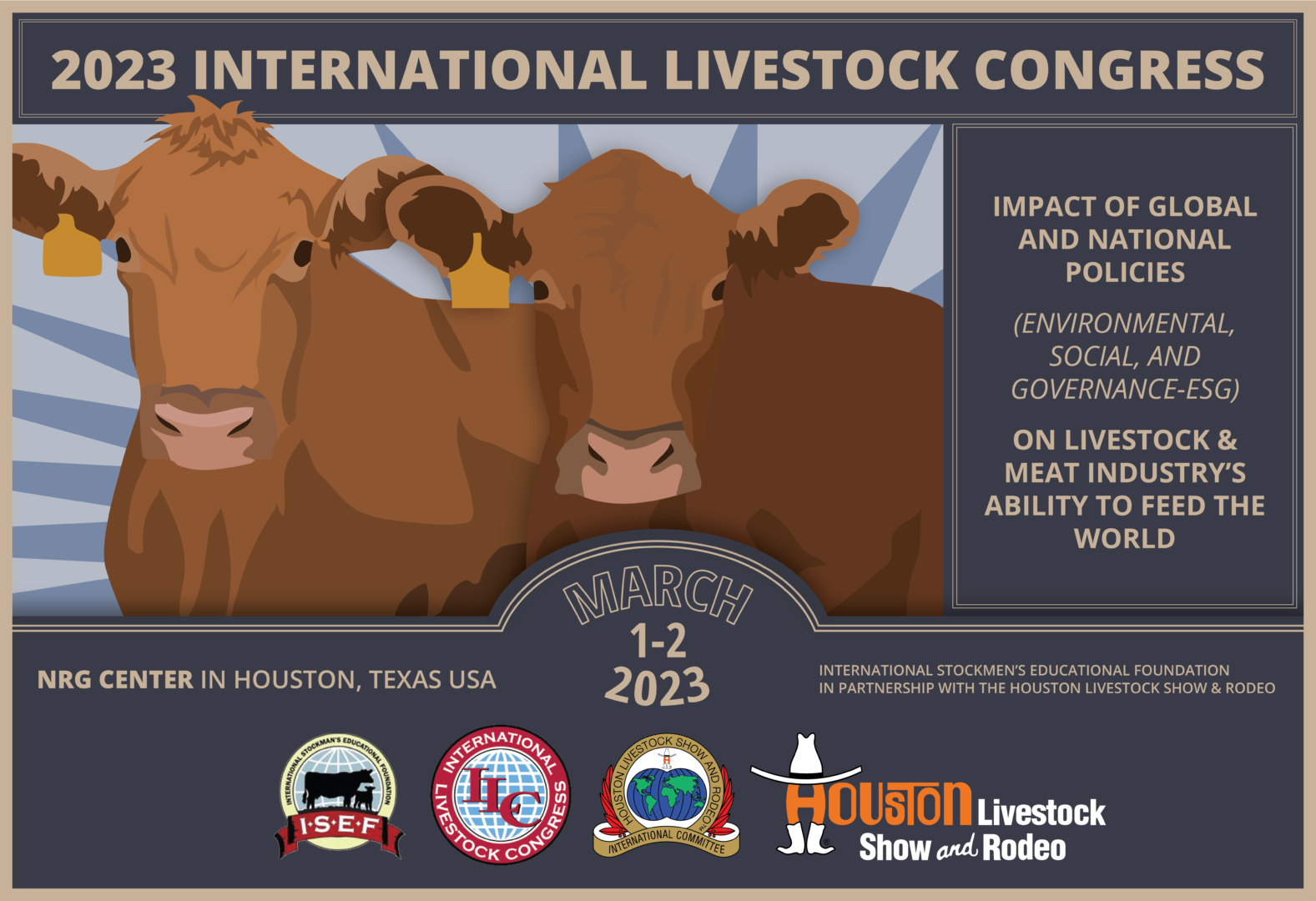 The 2023 International Livestock Congress will be held in-person on March 1-2, 2023, in Houston, Texas, during the Houston Livestock Show & Rodeo for ILC participants to interact with global industry leaders as they discuss meeting the challenge of feeding an expanding population while managing unexpected events. The 2023 ILC will focus on each of the touch points because the adjustments and decisions made by global industry leaders today may well define the future of our livestock and meat industries moving forward.
NOTE: All time frames in the schedule are in Central Time.
2023 International Livestock Congress
Impact of Global and National Policies (Environmental, Social, and Governance-ESG) on livestock & meat industry's ability to feed the world?
WEDNESDAY, March 1, 2023

What is ESG and its impact?
7:00-8:30 am
Registration and continental breakfast
8:45-9:00 am
Welcome
James O. Reagan, Ph.D., Zoetis, Chairman, International Stockmen's Educational Foundation, Fort Collins, CO
Chris Boleman, C.E.O., Houston Livestock Show and Rodeo
Randy Pauly, Chair, International Committee, Houston Livestock Show and Rodeo
9:00-10:00 am
Moderator: Don Close, American Ag Credit, St. Louis, MO Keynote, Day One. How does the food system prepare for success with the rise of Global and National ESG Policies?
Sara Place, Ph.D., Colorado State University, Fort Collins, CO
10:00-10:30 am
Break/Networking
10:30-11:10 am
Potential impact of ESG requirements on the U.S. cattle feeding and beef processing industries.
Mike Smith Vice President Technical Services, Harris Ranch Beef Division, Selma, CA
11:10-11:50 am
What does leadership in ESG look like in the future?
Justin Ransom, Ph.D., Tyson Foods, Inc., Springdale, AR
12:00-1:30 pm
Lunch-Student and Alumni Recognition
1:30-1:40 pm
Moderator: Don Close
1:40-2:20 pm

How are ESG requirements impacting the live beef sector? Dave Daley, Chico State University, Chico, CA

2:20-3:00 pm
The ESG train has left the station-Unintended consequences remain.
Bill Rishel, Rishel Angus, Lincoln, NE
3:00-3:45 pm
Panel Discussion:

Opening remarks by moderator followed by brief remarks from previous five speakers.
3:45-4:15 pm
Break/Networking
4:15-5:15 pm
How are international beef sectors dealing with sustainability requirements for export? Panel discussion from four speakers representing Australia, South America, Central America and Canada.
Opening remarks from moderator Close followed by remarks (8-10 min.) from each speaker.Doug McNicholl, MLA Regional Manager, North America, AU (b). Bruno Cunha, Brazil, (c). Luis Diego Obando, Costa Rica, and (d). Dennis Laycraft, Canadian Cattlemen's Assoc., Calgary, CA.
5:15-5:30 pm
What have we learned today?
Jason Strong, Meat & Livestock Australia, Sydney, AU
5:30-6:30 pm

International Committee Reception (followed by Rodeo)
THURSDAY, March 2, 2023

Food or Nutrition Security and Sustainability
7:00-8:00 am
Continental Breakfast
8:00-8:15 am
Moderator: Jessica Finck, Merck Animal Health, Centennial, CO
8:15-9:00 am
Keynote Day Two. Challenges to food security: the role of livestock production in developing countries.
Elsa Murano, Ph.D., Director, Borlaug Institute, Texas A&M University, College Station, TX
9:00-9:40 am
What roles will robotics, artificial intelligence and automation play in the future of meat production (existing & new plants)?
Chafik Barbar, CEO, Marble Technologies, Cambridge, Mass.
9:40-10:10 am
Break/Networking
10:10-10:50 am
How does red meat trade fit in the global food security conversation?
Erin Borror, Vice President of Economic Analysis, U.S. Meat Export Federation, Denver, CO.
10:50-11:30 am
Safeguarding international trade-Australia's animal health preparedness.
Andrew McCallum, Meat & Livestock Australia, Sydney, AU
11:30-12:00 pm
Call to Action!
Jason Strong, Meat & Livestock, Australia, Sydney, AU